Chevron will receive new NAUTIS Maritime Simulator upgrades as well as the opportunity to train with a Response Simulator in virtual reality (VR). As the shipping industry brings forth new challenges and demands, this latest deal will make Chevron well equipped and more capable to boost their crews' training skills using the latest technological advancements.
The new simulator upgrades are set to be delivered to Chevron's facilities in San Ramon, United States, and Clydebank, Scotland, and includes turnkey solutions for NAUTIS Maritime Simulators. These setups give both the instructor and trainee the possibility to experience fully integrated training and include the latest NAUTIS console designs in the market. In addition to this, Chevron will also receive custom content, meaning that training will be done with an even higher degree of familiarization. Vessels will behave as they would in real-life scenarios, which is possible due to the integration of the hydrodynamics by MARIN into NAUTIS.
Though there have been many steps taken in raising safety standards, the industry remains susceptible to risks. VSTEP Simulation's simulator solutions, which were developed in close collaboration with industry experts, align with Chevron's safety training standards. The delivery will be made to Chevron's Shipping division, which performs transportation of crude oil, liquefied natural gas and other refined products.
The new NAUTIS Class A simulators have the ability to connect to a bridge wing view, meaning that a much more holistic training experience can be achieved with communications between an officer and the captain. If necessary, this bridge wing view can be used for Tug training. Additionally, a mini NAUTIS Tug, among other mini sims, will receive an upgrade. Despite the simulators' small form factor, it still provides a wealth of training value to users. Due to the content and functionalities, captains can train for the handling of tugboats with various propulsion systems during towage operations. The NAUTIS Medium Control Box with Azimuths allows operators to practice with real ship controls, enhancing the true-to-life experience of simulator usage.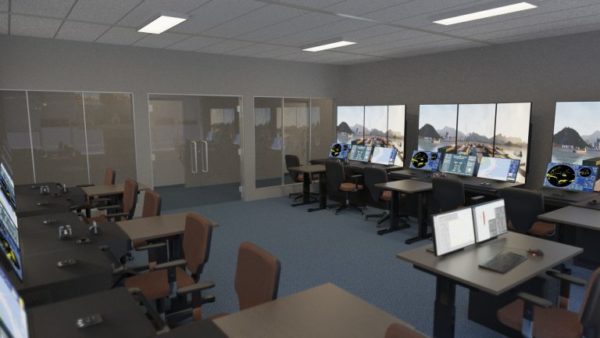 A key part of the new upgrade includes the addition of the maritime package of Response Simulator. Chevron will be utilizing the VR trainer as a pilot to discover specific situations in which VR can be implemented. Response Simulator is suited for research into improving the training capabilities of those in charge of safety onboard vessels. Current safety measures across fleets can be improved greatly with this type of simulator training. Using Response Simulator, organizations such as Chevron can train for engine room fires, on-board explosions, evacuation procedures and much more. Users can effectively train Advanced Fire Fighting (AFF), using Response Simulator's Incident Command system.
The integration of NAUTIS and Response Simulator is a much more comprehensive and cost-effective way to train real-life situations from different perspectives. This combination opens the opportunity to conduct simultaneous training sessions.
"As the program is still in an early stage, new insights will be immediately utilized to develop the integration of the products even further. Ultimately, the Response Simulator solution with the new NAUTIS upgrades indicate a great development as the industry is looking to embrace new innovations that will help push it forward," mentions Fabian van den Berg, commercial director at VSTEP Simulation.