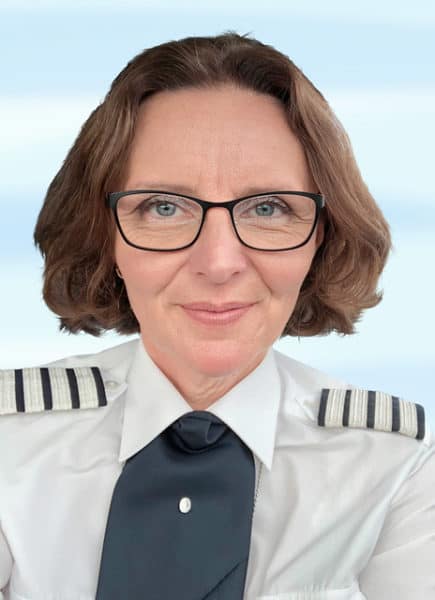 Captain Helen Heenan, Q400 Captain, Head CRM Trainer, Flybe
Helen was educated at The Ladies' College in Guernsey, and obtained her commercial pilot's licence from the Cabair College of Air Training in January 1999. In May of that year she joined Jersey European Airways, the airline that later on became Flybe.
Following 7 years as a First Officer on the Dash 8 and BAe146, she gained her command on the Dash-8 Q400 in 2006, and in 2007 she joined the CRM team as an instructor delivering recurrent CRM training to flight deck and cabin crew. Returning from a maternity break in 2013, she then began delivering the more comprehensive Initial Operator's CRM training for both Flight Crew and Cabin Crew, and in 2016 was appointed the Head of the CRM training department.
In this role Helen is responsible for the creation and delivery of all the initial and recurrent courseware for the company's 1700 aircrew, many of whom are new recruits to commercial aviation, and sits on the company Training Policy Group to ensure that course materials are up to date and responding to identified training needs.
She leads and coaches a team of 12 CRMT's within the airline, and manages the individual training programmes for both the UK and Swedish based pilots and cabin crew.
Her work has been acknowledged by the UK CAA as 'The most comprehensive CRM course ever inspected', and 'The most engaged class observed for a very long time'.
Helen's focus is on how training can be most effective, and she is an advocate of structure and simplicity in her teaching style whilst retaining relevance and objectivity.
Developing Resilience in the Workplace; What Do You Think We Should Do?
Speak to anyone involved in a safety critical industry, and you will find a harmonious consensus that resilience is becoming an essential attribute in order to operate efficiently, and to function safely in a dynamic environment. But to fully understand what resilience actually is, is a deeply complex, multi factorial area of academic study.
With it now falling into the EASA CRM (human factors) training syllabus, we not only had to figure out how it specifically related to aviation, but how to incorporate it into relevant and effective training within a classroom or operational environment for flight crew and cabin crew.
The basic principles however are transferable across multiple fields. We will look at the fundamentals of developing resilience not only from individuals, but from the organisational culture they operate within.