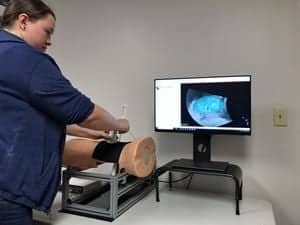 Kitware added to its collection of open source toolkits with the first release of the interactive Medical Simulation Toolkit (iMSTK). The toolkit offers manufacturers and researchers all the software components they need to build and test virtual simulators for medical training and planning.
"iMSTK, which we've been developing in close collaboration with Professor Suvranu De's research center — the Center for Modeling, Simulation and Imaging in Medicine at Rensselaer Polytechnic Institute — is meant to empower developers to rapidly prototype virtual simulator applications," said Andinet Enquobahrie, the director of medical computing at Kitware.
Virtual simulators can help practicing surgeons, medical students, residents and nurses to rehearse or plan surgical procedures such as biopsies, resectioning, radiosurgery and laparoscopy without compromising patient safety in the operating room. Medical simulators can also help accredit potential surgeons in basic skills for laparoscopy, endoscopy or robotic surgery.
To aid the development of medical simulators, iMSTK brings together 3D medical image processing plus modeling and simulation. More specifically, iMSTK works hand-in-hand with 3D Slicer and the Insight Segmentation and Registration Toolkit (ITK) to segment a medical scan, derive 3D models from the segmentations and use the models for interactive physics-based simulation and photorealistic rendering.
In addition to simulation and rendering, iMSTK offers support modules for collision detection and geometric processing. It also offers support for an array of external devices, including HTC Vive, Oculus Rift and the Geomagic Touch haptic device. Behind each of the elements in iMSTK is decades of open source software development at Kitware.
"What separates iMSTK from other open source software for medical simulation is that it provides a plugin-flexible system for VTK and the in-house Vulkan rendering backend," said Sreekanth Arikatla, the chief architect of iMSTK and a senior R&D engineer at Kitware. "The system can also plug in physics-based modeling libraries for the finite element method, the rigid body simulation and Position Based Dynamics."
Kitware has worked with surgical training companies, research hospitals and universities to base virtual simulators on iMSTK, including one for kidney biopsy, one for osteotomy and another for basic laparoscopic skills training. The latter drills users in aspects of the Fundamentals of Laparoscopic Surgery program, which consists of navigating a camera, transferring objects onto pegs, cutting patterns, performing loop ligation and tying extracorporeal and intracorporeal suturing. Both the Journal of Biomedical Informatics and Surgical Endoscopy have published results on the use and validation of this simulator. It is part of a near $1.5 million award from the National Institutes of Health, which Kitware received in 2015 with collaborators that include Rensselaer Polytechnic Institute (RPI).
"Kitware has been a powerful ally not only in developing the virtual simulator but also in facilitating the transition of new algorithms from graduate research at RPI's Center for Modeling, Simulation and Imaging in Medicine to professional-grade software libraries," said Suvranu De, the center's director.
Kitware will continue to work with its research partners to add more features to iMSTK such as multithreading for faster simulations, advanced contact algorithms and multiphysics capabilities. They will also more fully integrate iMSTK with Kitware's Computational Model Builder and Pulse Physiology Engine.
Members of Kitware's medical computing team will show demos of simulators that use iMSTK at the 2019 International Meeting on Simulation in Healthcare (IMSH) in January. To meet with team members at IMSH, please contact kitware(at)kitware(dot)com, or visit them at booth 740.
Research reported in this publication was supported, in part, by the National Institute of Biomedical Imaging And Bioengineering of the National Institutes of Health under Award Number R44EB019802; by the National Institute of Diabetes and Digestive and Kidney Diseases of the National Institutes of Health under Award Number R43DK115332; by the Office Of The Director, National Institutes Of Health of the National Institutes of Health under Award Number R44OD018334; and by the National Institute of Dental & Craniofacial Research of the National Institutes of Health under Award Number R43DE027595. The content is solely the responsibility of the authors and does not necessarily represent the official views of the National Institutes of Health.