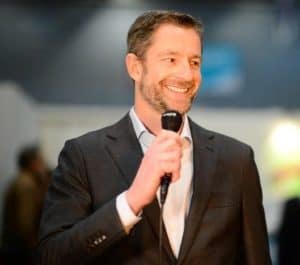 Marco van Sterkenburg, CEO & Co-Founder, Drillster
Marco van Sterkenburg is co-founder and CEO of Drillster that he started in 2012. Prior to working for Drillster, Marco worked in management roles for France Télécom, Orange and RBS.
From his passion for new technologies and learning, Marco co-founded Drillster in 2012.
In his role of founder and CEO of Drillster, Marco has presented at many international conferences, including the conferences of the European Association for Test Publishers (Prague 2013), Online Educa (Berlin 2012), the NEXT Learning Event (Netherlands 2014), the 2015 International Conference on Patient Education (Amsterdam) and EATS 2017 and 2018.
Marco has extensive international work experience and is fluent in English, French and Spanish. He lives in Amsterdam.
ABSTRACT
Is There a Better Way Than a Yearly Exam for the Recurrent Proficiency Check?
The best resilience and safety device in any organization is well-trained staff. After the initial training, the yearly recurrent training and exam is the most frequently used method to demonstrate resilience and safety skills.
But what is the value of the recurrent training result if we all know that knowledge declines if not maintained? What does today's recurrent exam results say about someone's ability to correctly perform an emergency procedure if that is needed in 3, 6 or 9 months time?
Drillster developed an innovative way to develop, update and retain competencies in a personalized way. A proprietary algorithm, based on scientific research, enables the calculation of how and when knowledge of an individual learner declines over time.
This retention calculation mechanism enables employees to be notified just before crucial knowledge tends to decline. Members of staff that are new in a role will be reminded more frequently to brush up on their knowledge and skills than employees that have demonstrated many times to correctly master specific skills.
A yearly recurrent exam leads to a knowledge peak around the moment of the exam. Drillster's methodology results in year-round, top-of-mind knowledge and thus to better performing staff.
Update to the resilience and safety procedures? Drillster recalculates the proficiency for each member of staff and reminders ensure that each employee can learn, anchor and retain the updated procedures. Employees have not only read the updates, but they also demonstrate that they are able to apply the new procedures, now and at any given time in the future.
In many industries, like in the airline and pharma industry, yearly compliance exams have been replaced by the Drillster application. In our presentation, we include an interesting case study that shows that there is food for thought on how new technology leads to improved ways of continuous resilience and safety training.